News and Announcements
NDCA's 2017 Annual Meeting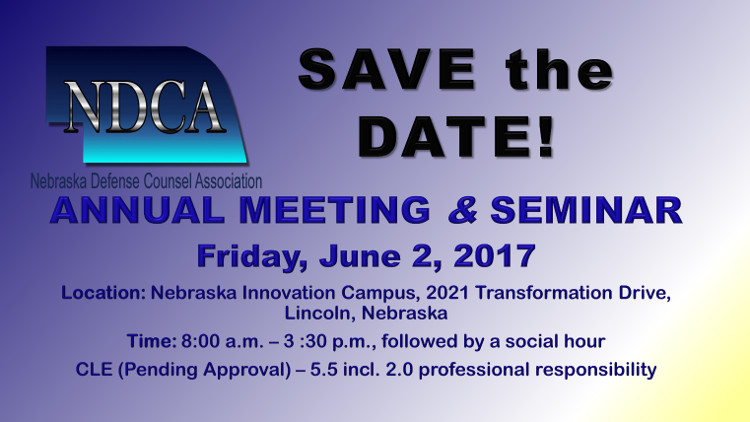 SAVE the DATE!
NDCA's ANNUAL MEETING
Friday, June 2, 2017

Location: Nebraska Innovation Campus, on 2021 Transformation Drive, Lincoln, Nebraska.
Time: 8:00 a.m. - 3:00 p.m.
Presenters will include:
Nationally acclaimed Reptile strategist, Bill Kanasky, Jr., Ph.D., of Courtroom Sciences, Inc., who will be presenting concrete ways and strategies to combat reptilian tactics in the courtroom. Now that you know what it is, you need to know how to deal with it. Bill's presentation will be geared toward just that.
and
John G. Browning, Esq. of Passman & Jones in Dallas, Texas, expert in ethics and social media, Author of The Lawyer's Guide to Social Networking: Understanding Social Media's Impact on the Law (Thomson Reuters/West Publishing 2010), will be presenting on how Facebook,Twitter and Instagram affect the legal system.As a veteran litigator and leading expert in law and social media, Lawyers in virtually all areas of the practice of law welcome his advice.

Click here for more details.

We look forward to seeing you at this event!
Upcoming Events
Click here to view the NDCA calendar.
DRI - 2017 Annual Meeting
October 4, 2017, 7:00 AM - 7:00 PM
Location: Chicago, IL

October 4 - 8, 2017
More event details will be available closer to the event date.