Upcoming Events
Newsfeed
Legal News
Welcome
Welcome to the Nebraska Defense Counsel Association (NDCA) website. NDCA is a state-wide association dedicated to serving the needs of our members. Membership is open to Nebraska attorneys who devote a majority of their law practice to the defense of civil lawsuits. The NDCA is comprised of over 200 Nebraska defense attorneys, practicing in state and federal courts.
NDCA News
2016 NDCA Annual Meeting Sponsor/Exhibitor Brochure
Click here to view the Brochure.
NDCA 2016 Annual Meeting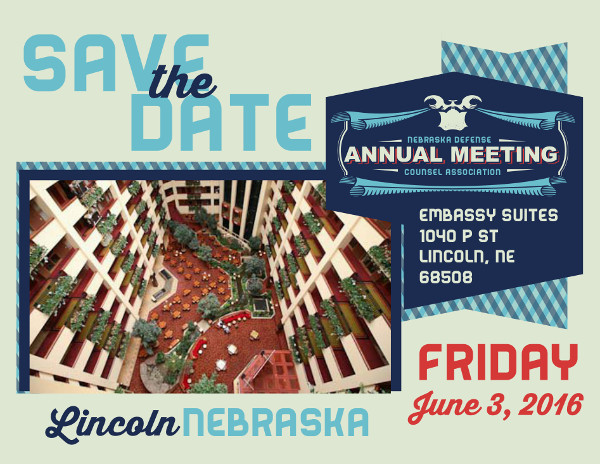 Click here to view the Brochure.
DRI Annual Meeting
NDCA 2015 Annual Meeting
Our 2015 Annual Meeting was held, June 5, 2015, at the Lodge at Wilderness Ridge in Lincoln, Nebraska.
Click here to see highlights from our 2015 Annual Session.
A Thank You to Our Sponsors/Vendors
A special thank you to our sponsors/vendors, David Woodke of Woodke & Gibbons, ESI Engineering, Inc., Minnesota Lawyers Mutual, Thomas & Thomas Court Reporters, and D4 eDiscovery.

Hans Iwand
ESI (Engineering Systems Inc.)
5697 N. 13th St.
Omaha NE 68110
402.881.4860
630.851.4566 (IL)
816.415.8340 (KC)
734.794.8100 (MI)
636.240.6095 (MO)
www.esi-website.com


Chad Mitchell-Peterson
Regional Sales Director
Minnesota Lawyers Mutual Insurance Company
333 S. 7th Street, Suite 2200
Minneapolis, MN 55402
Phone: 612.373.9681
Toll-Free: 800.422.1370, ext. 9681
Cell: 651-341-3152
Fax: 800-305-1510
chad@mlmins.com
www.mlmins.com


Bobby Desai
Sam DelSenno
222 South 15th Street, Suite 232
Omaha, NE 68102
Phone: 402.614.6100
www.d4discovery.com


John Thomas Jr.
1321 Jones Street, Suite 101
Omaha, NE 68102
Phone: 402.556.5000
jthomas@ttcrs.com
www.ttcrs.com


David Woodke
619 North 90th Street
Omaha, NE 68114
402.391.6000
dwoodke@woglaw.com
www.woodkegibbons.com
Nebraska Defense Counsel Association
info@nebraskadefense.org